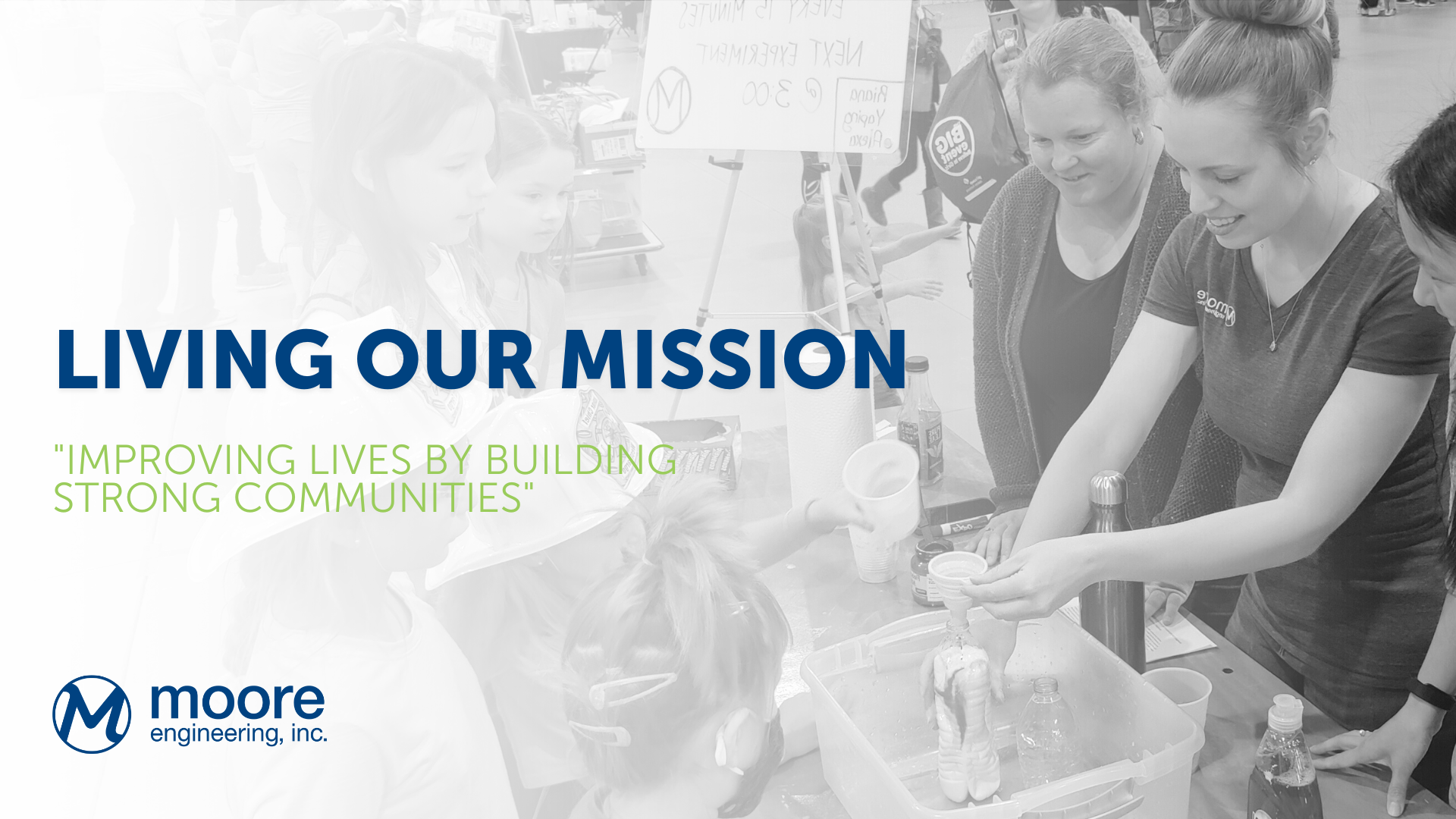 Join a Team That Cares | Moore Engineering Philanthropy 
At Moore Engineering, we believe that improving lives by building strong communities is more than just a mission statement. It's our way of life. Every day we work with clients to develop critical infrastructure projects that serve thousands of people in communities around the region. But our mission compels us to step outside our day-to-day work. The Moore Giving program is our way to support community initiatives while giving our employee-owners a deep sense of belonging and purpose.
Over the course of 60 years, we've created a supportive and inclusive work environment where employee-owners can impact personally and professionally. The Moore Giving program has played an important role in shaping our company culture while allowing us to make a positive difference around the region.
Moore Giving Program
The Moore Giving program is an extension of our mission of "improving lives by building strong communities." It formalized our commitment to partnering with a variety of community organizations through monetary and gift donations along with employee time and volunteerism.
Moore Engineering Giving Pillars
The Moore Giving program operates on three pillars: education and workforce, supporting our communities, and supporting employee-owners who give back.
Education and Workforce
The education and workforce pillar aims to support programs that help students prepare to enter the workforce. We do so through college scholarships, college program support via mentoring and guest lecturing, workforce academy financial support, program leadership to lift up underrepresented groups and intern opportunities. We believe that investing in the next generation of engineers, leaders, and citizens is vital for the future of our communities and our industry.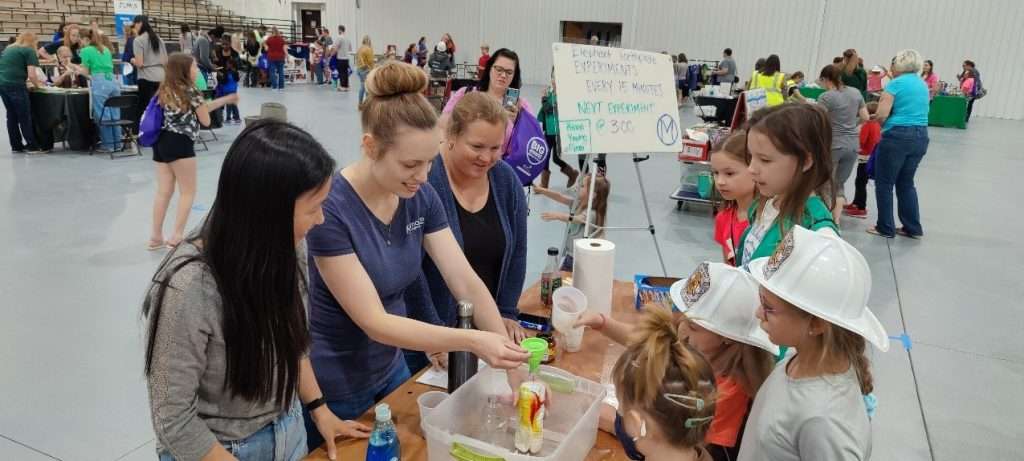 Moore Engineering employee-owners get to educate and inspire students interested in joining the engineering field. Our intern program brings the best and brightest college students to our offices across the region and gives them hands-on experience. Our employees mentor and coach talented students that often become future colleagues.
Supporting our Communities
This pillar reflects our dedication to being good stewards by partnering with organizations that improve the vitality of the communities where we work and live. We support city parks, hunger initiatives, children's programs, and other local causes that align with our values of respect, integrity, accountability, loyalty, and kindness. 
Employee Owners Who Give Back
Our culture at Moore Engineering is shaped by the kind, selfless, and mission-oriented employee-owners who make up our team. The "Employee Owners Who Give Back" pillar recognizes and supports the philanthropic efforts of our employees.
Our employee-owners are actively involved in giving back to the community through volunteering and making donations. We encourage our employees to volunteer with colleagues through Moore Engineering-sponsored volunteer opportunities a few times each year and we offer a financial donation matching program, celebrating and sharing in our employees' passions for charitable organizations.
Moore Giving Highlights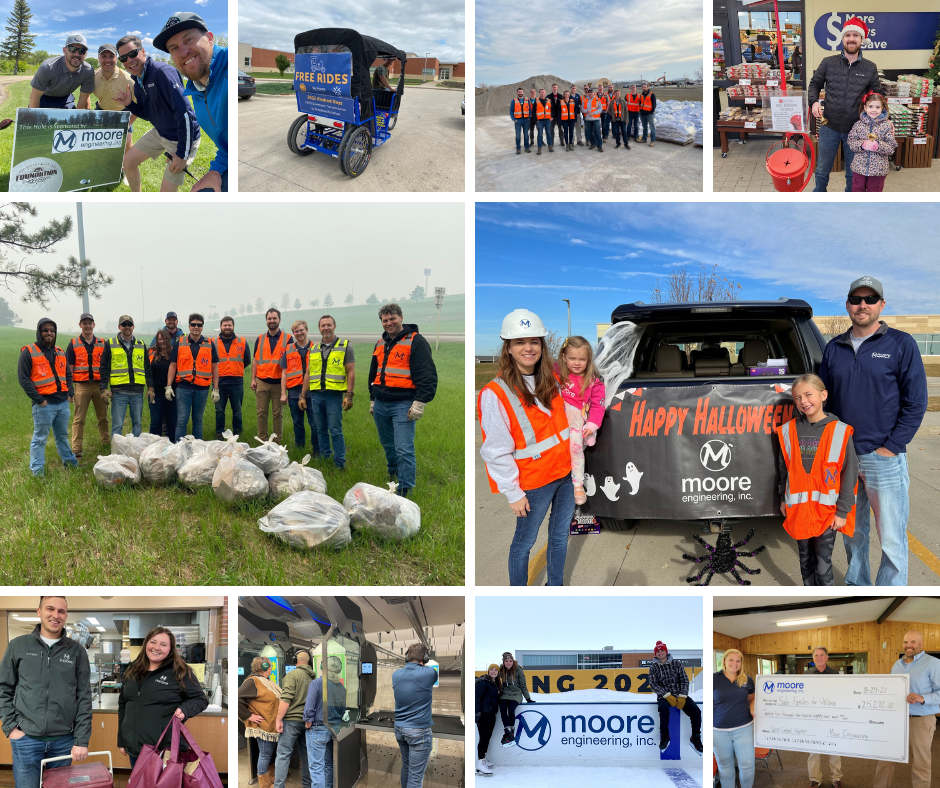 Moore Engineering has partnered with countless community organizations in our 60+ year history. Today, we'd like to share two of our philanthropic efforts. 
Giving Hearts Day
Giving Hearts Day is a 24-hour fundraising event that supports hundreds of nonprofits in North Dakota and Minnesota. For many years, we have bolstered this event by matching our employees' donations to their chosen charities. Some of the organizations we have supported are Haley's Hope, Gigi's Playhouse, Unseen, Brave the Shave, and the North Dakota Autism Center. We are proud to support these causes that touch thousands of lives in our region.
Dakota Horizons "BIG" Event
Dakota Horizons "BIG" Event is an annual event that brings together over 1,000 Girl Scouts from across North Dakota and South Dakota for a day of fun, learning, and empowerment. We have been a sponsor and a partner of the event for several years, providing monetary donations and generous employees who volunteer their time to help out. Nothing is more rewarding than the chance to share our passion for engineering and STEM with the next generation.
These are just some of the ways we give back to our communities through our Moore Giving program. We are always looking for new opportunities to make a positive impact and pursue our mission of "improving lives by building strong communities." 
We're also always looking for talented individuals who align with our guiding values to join our team. If you're interested in learning more, explore our open careers and apply today!