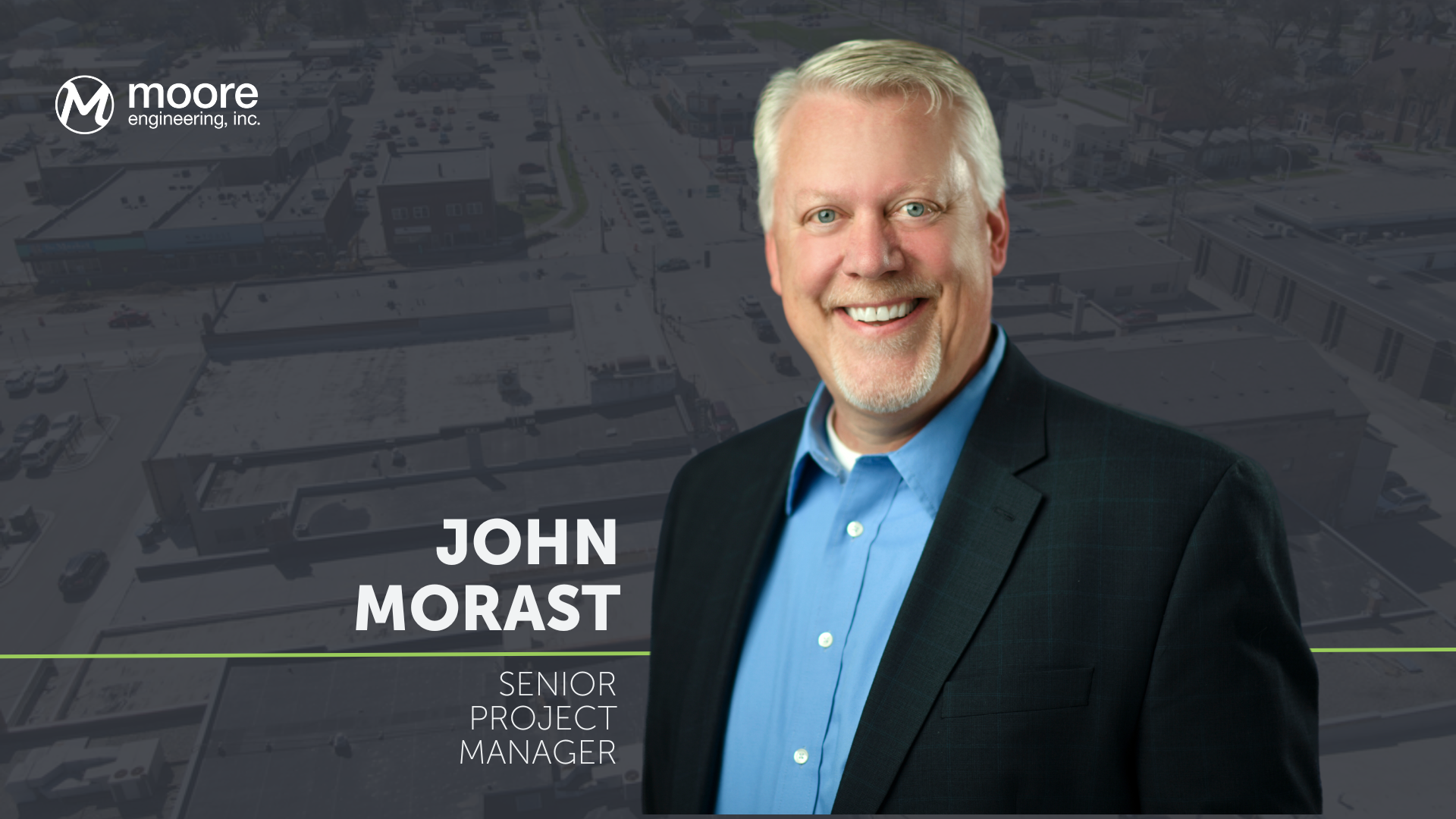 Welcome John Morast to Moore Engineering
John now joins the Moore Engineering team in Plymouth, MN – close to his hometown and current residence in Orono, MN.
We're excited to announce that John Morast has joined Moore Engineering as our newest Senior Project Manager! John's outgoing spirit, years of experience, and magnetic personality make him an incredibly valuable addition to the Moore family and our clients.
Originally from Minneapolis, Minnesota, John has had the opportunity to work in a wide range of organizations and in diverse environments. In his decades-long career, John previously spent 10 years at various DOTs, 12 years serving city and county governments, and 14 years helping clients through consulting. His career has taken him all over the country including Seattle, WA, Concord, NC, and Phoenix, AZ.
Considering his storied career, you can probably guess that John enjoys variety in his work. He loves the opportunity to work on a wide range of projects and issues while working with and serving communities with comprehensive engineering services.
Outside of work, you can find John soaking up life with his friends and family. As a Minnesota native, it's no surprise that John is drawn to the water. He now gets to share and teach that passion with his grandson. John is a tinkerer, working with anything he can find around his garage.
Join John at Moore
At Moore, we take immense pride in the results we deliver for clients. We are committed to maintaining the highest standards in the industry and never cutting corners or making excuses.
We understand the importance of our work and that our employees are our most valuable asset. We believe in rewarding excellence through competitive wages, stellar benefits, flexible work arrangements, and employee ownership.
Moore Engineering is a 100% employee-owned company; each employee has a stake in our collective success. We strive to create an environment where employee-owners feel like family, with opportunities for career advancement, ownership, and competitive compensation.
We go beyond financial benefits to offer flexibility to our employee-owners in creating a working arrangement that suits their needs. Our comprehensive employee benefits package includes health savings accounts, paid time off, tuition assistance, and insurance, including medical, dental, and vision coverage.
At Moore Engineering, our commitment to the communities we serve is a core part of our identity. We encourage our team members to give back through our "Moore Giving" philanthropy program, helping us live out our mission of "Improving lives by building strong communities."
If you're looking for a company that values hard work, excellence, and community involvement, we invite you to apply to join our team today.