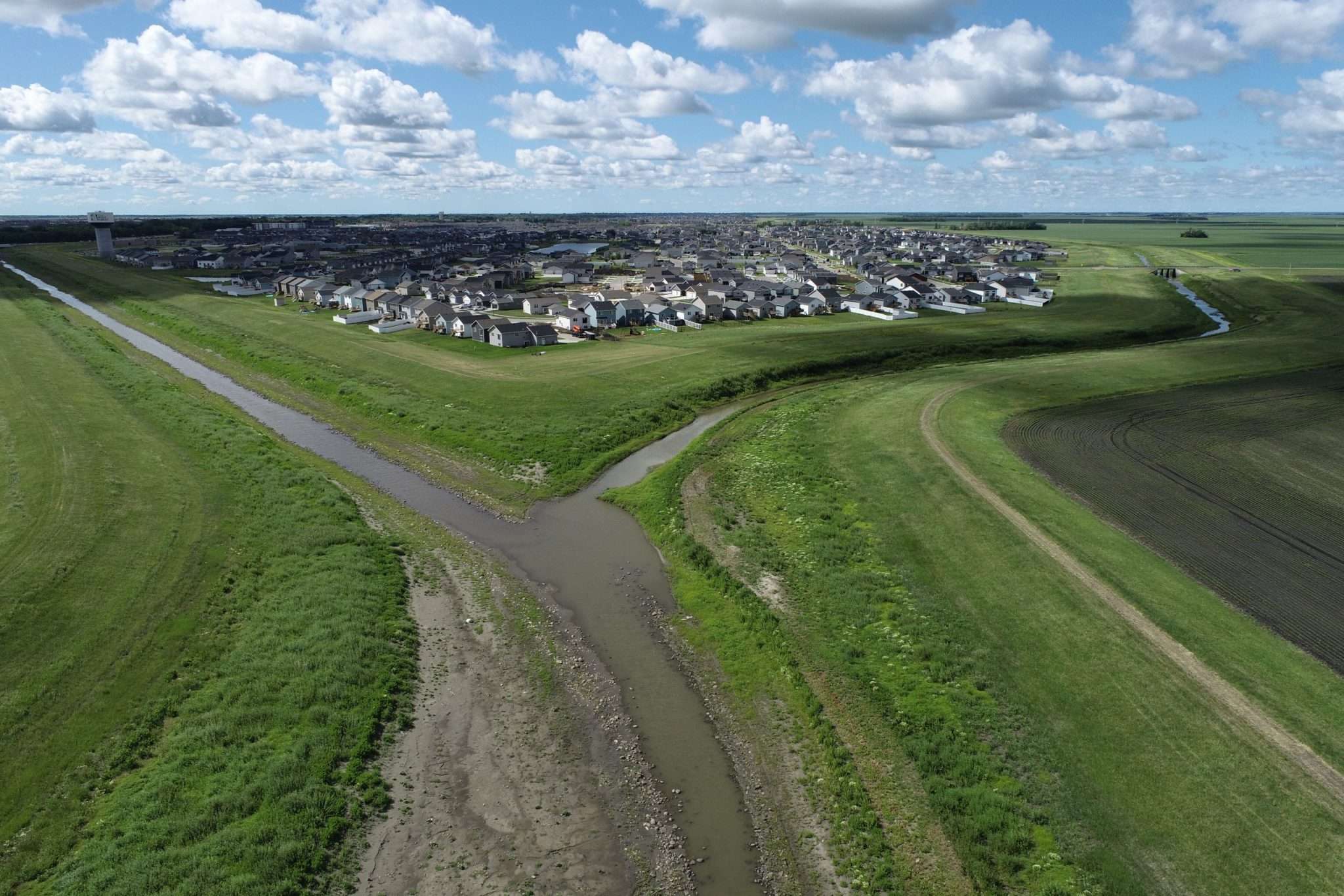 Sheyenne River Diversion | Providing Protection Since 1992
The Sheyenne River meanders through deep ravines in Eastern North Dakota before spilling onto the flat lake bottom of ancient Lake Agassiz where the relatively flat topography is susceptible to overland flooding.
The cities of West Fargo and Horace are protected by permanent flood protection in the form of a diversion that conveys Sheyenne River floodwaters around both communities. Construction began in the spring of 1990 and the diversion was operational by the fall of 1992. In the nearly 30-year history of the diversion, it has operated much more frequently than originally anticipated while standing strong against the record level floods of 1997, 2009, 2010, and 2011.
The Sheyenne River Diversion from Horace to West Fargo begins southwest of the City of Horace and runs north 7.5 miles to its confluence with the West Fargo Diversion just south of I-94. The West Fargo Diversion channel wraps around the western perimeter of the City of West Fargo and is nearly 13 miles in length including tieback levees. The West Fargo Diversion channel carries the flow of both the Horace to West Fargo leg as well as additional Sheyenne River inflow from immediately south of I-94. The channel rejoins the Sheyenne River north of 12th Avenue North where the flow continues toward the Red River.
The Sheyenne Diversion has provided protection for the historical footprint of West Fargo and Horace and allowed for the development of a once flood-prone area.
Key Project Facts
West Fargo Diversion
Conveys 4,600 ft³/sec (100-yr flood)
4 Structures
12.7 Miles of Protection Levees
4 Highway Bridges
6 Road Raises
2 Pumping Stations (54,000 GPM / 66,000 GPM)
1 Railroad Bridge
Horace Diversion
Conveys 2,600 ft³/sec (100-yr flood)
2 Structures
8 Miles of Protection Levees
7 Highway Bridges
7 Roads Raises