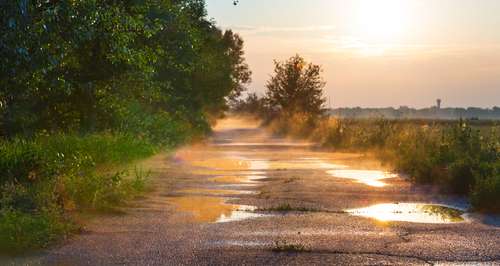 Safety Audit 101
Everyone has witnessed a pothole, a line of trees blocking the view of oncoming traffic or a burnt out street light.
The question is – have you ever done anything about it? If your answer is "no," take a minute to consider the safety hazard any of these, or others, could cause.
As engineers, we're consultants for the counties and cities in which we live and work. This means when we're driving around – on the clock or not – we're not just looking to get from point A to point B. We're constantly performing safety audits, because we know being proactive stewards for our communities helps keep residents safe.
As we've covered in a previous blog, safe, reliable transportation is vital for every community. In that blog, we discussed road conditions, traffic volumes and crash statistics. In a more recent article, we covered why roundabouts are gaining traction (spoiler alert: it's about safety). 
So if safety is such a big deal, there should be no hesitation by public employees – of a township, city, county or state – to identify, evaluate and report issues spotted on county or city roads. It's what all technical experts should be doing in our daily lives.
Here are just a few simple things to keep an eye on:
Obstructions

Trees or landscaping that blocks the view of signs or oncoming traffic
Low-hanging branches over walking paths

Signs and signals

Faded signage
Burnt out traffic signal indicators or lighting
Incorrect detour or construction zone signage

Bad traffic or habits

Roads where drivers frequently speed
Frequent illegal running of lights or signals
Traffic backup between intersections or spilling out of turn lanes

Road conditions

Potholes
Bumpy roads
Excessive loose gravel or eroding shoulders
Large cracks in pavement or on sidewalks
I'm happy to see this topic at the 2016 North Dakota Association of Counties Annual Conference: County Roads: Managing this Asset for the Future. I expect safety will be a big piece of the discussion, and they'll cover safety audits and how to train staff to identify issues and take action.
We will be there, ready and available to talk safety, ideas or concerns at booth E10. Stop by and we'll chat.