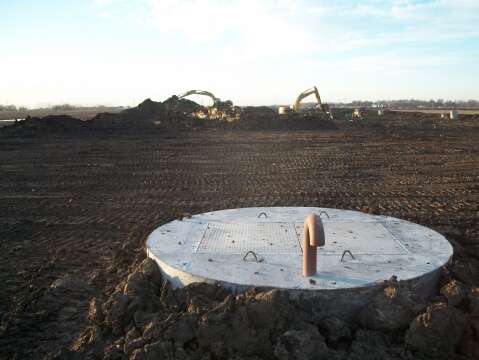 West Fargo, ND – Maple Ridge Sanitary
Challenge
Land Development in Section 20 of West Fargo, North Dakota required a sanitary lift station large enough to handle all current and future effluent flows within the section. These flows would then be pumped via force main to the City system and lagoons. All of the sanitary pipe networks within the section would be gravity fed to the lift station which requires a deep lift station. With the clay soil conditions in this area, excavating to the required depths of 45 feet provides additional challenges in regards to sloughing, stabilization, backfilling and compaction. Also, budget is always a contributing factor to projects of this or any size.
Solution
In order to minimize maintenance and cost for the City, larger regional lift stations are recommended and preferred. With this perception, using development and zoning projections, sewer modeling programs, and historical data, the pumps and system were sized capable of handling current and future flows within the newly developed section. Providing a single, yet redundant, pump station allowed the sanitary network within the section to be all gravity driven to one location. This provided a cost effective and low maintenance solution for additional expansion in the area.
Project Outcome
With the project being constructed during early development within the section, the lift station was up and running and ready for development and future expansion. The City of West Fargo was pleased with an efficient, reliable, and cost effective sanitary lift station which could be used as a promotional attribute to allow growth within the City.