Nathan Trosen | Graduate Engineer | Then & Now
Moore Engineering is always seeking new graduate engineers to add to our team. Are you on your way to graduation and don't know where you are going to land?
Over the next month, we will be introducing you to some of our employees that started as graduate engineers with Moore and have experience growth within the company.
First up… Nathan Trosen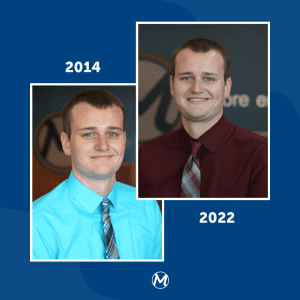 How many years have you been with Moore?
Eight years
What year did you start as a Graduate Engineer?
2015
Why did you choose engineering as your career path?
I was always curious about how common, unnoticed infrastructure is made. Most people don't typically think twice about the roads they drive on or how water gets to their sink, but those things have always caught my interest. As I went through schooling, math and problem-solving were strengths of mine, so pursuing a career in Civil Engineering was a way to utilize both my strengths and interests.
What has changed since you started your career as an engineer?
My curiosity about infrastructure is still as strong as ever but now I understand how most infrastructure is constructed from start to finish. This gives me a greater appreciation for the creative solutions that engineers come up with to solve complex and unique projects.
What made you choose Moore Engineering?
I knew I wanted to pursue a career in water resource engineering and Moore has one of the best water resource teams in the region. After I spent a summer as an intern with Moore, where I got to see the fun projects that Moore works on the how great the team is, I knew I wanted to work there.
What makes you stay with Moore Engineering?
There are many reasons to stay with Moore but one of the best would be the culture. Everyone on the staff is kind and very helpful. We have a true team-first, family-like attitude. I love that these traits also translate to the projects we work on and the clients we work with. I think this mentality comes from Moore being an ESOP. We are all employee-owners and there's a sense of camaraderie that comes with that which would be hard to replicate anywhere else.
Thank you, Nathan, for your dedication to your trade and Moore Engineering.
Moore Engineering is committed to sustaining a family culture, with sustainable business practices that create long-term value for employees and clients.  Join our team as the next Graduate Engineer and work with the best team, culture, and company. View all our current openings.