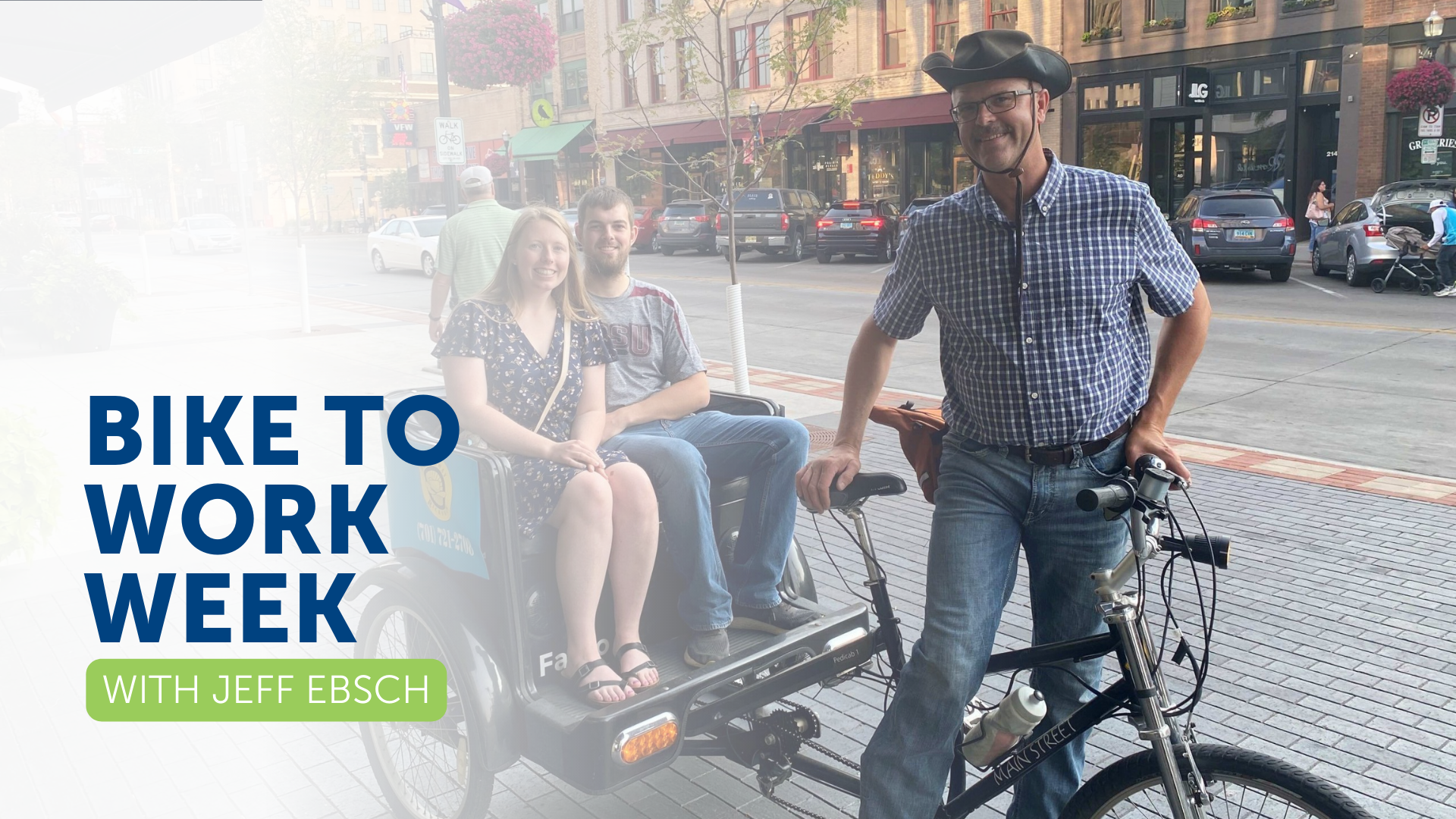 Meet Jeff Ebsch | Celebrating Bike to Work Day Year-Round
May 19th is National Ride Your Bike to Work Day! This Friday, take the opportunity to mix up your usual morning routine by leaving your car behind and pedaling to the office. Your participation is a small way to invest in your health and the health of the planet.
At Moore Engineering, we happen to have an expert in the subject of the muscle-powered commute. Jeff Ebsch has turned the holiday into a habit. In 2011, Jeff made a commitment to ride his bike to work every day. He's kept that commitment. 12 years, 4,380 days, and 8,760 one-way trips to-and-from the office later, we brought Jeff in to learn more about his healthy habit.
Exceptional employees like Jeff Ebsch bring a unique blend of passion and dedication to their work. Today, we shine the spotlight on Jeff, who has integrated his love for biking into both his daily commute and a thriving side gig. Join us as we delve into Jeff's biking journey, his commitment to year-round cycling, and his venture to serve downtown Fargo, ND, with his business: Broadway Rickshaw.
The Path to Cycling
Jeff's biking journey began back in 1989 during his college years. After numerous car accidents left him unable to afford insurance, he turned to biking as an alternative means of transportation. In 2011, Jeff turned 43 and decided to get back into biking to invest in his fitness and save money. With the introduction of fat tire bikes, he found the perfect solution to ride to work year-round, even in the harsh winter conditions of Michigan's Upper Peninsula, where he was living and working at the time.
Riding Every Day, Rain or Shine
Jeff's commitment to biking is unwavering. Since August 2011, he has ridden to work every day, except for two six-month periods due to an injury and living 20+ miles from his workplace. Despite challenging weather conditions, including 50 mph winds and sub-zero temperatures, Jeff perseveres.
Conquering Winter Challenges
If you live in the North, you know how intense the winters can be. To tackle winter cycling, Jeff equips himself with the right gear. His fat tire bikes, fitted with nobby tires, ensure stability and traction. Layering up with warm clothing, winter boots, downhill ski mittens, a facemask, and Ugg insoles, he comes prepared for the elements.
Lessons from Daily Biking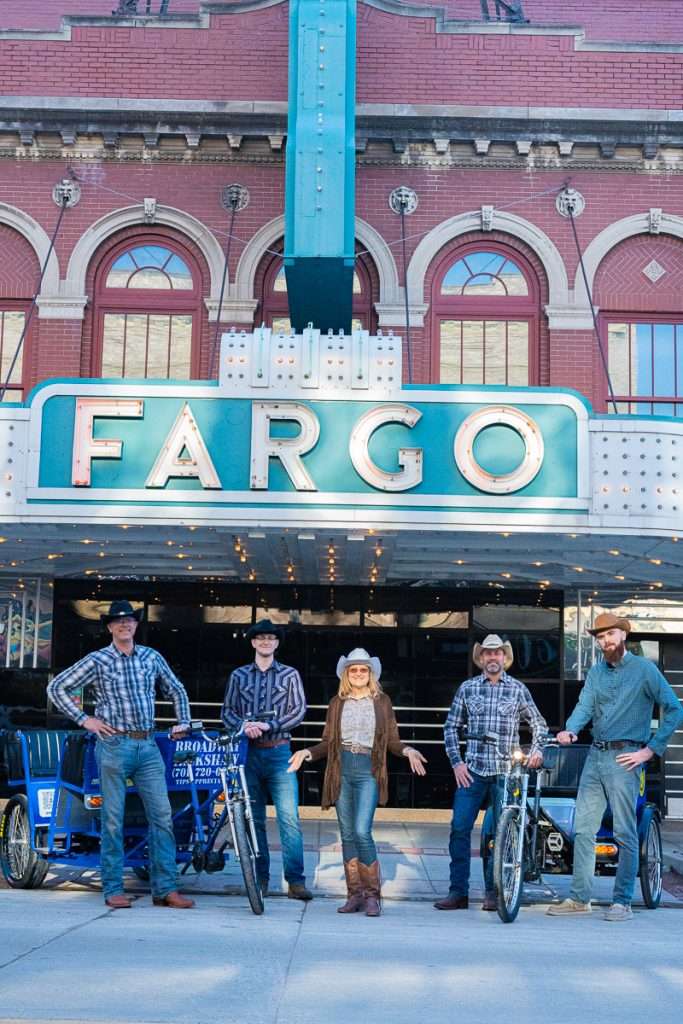 Riding every day has taught Jeff valuable life lessons. He has learned to appreciate his surroundings, slow down, and be grateful for his good health. Biking has taught him not to be discouraged by inclement weather, as it is primarily a mindset challenge. He encourages others to try challenging activities and emphasizes the benefits of improved focus and mental clarity achieved through daily exercise.
"Like anything in life, it's our mind that prevents us from trying challenging things. Year-round biking in Fargo-Moorhead isn't for everyone. But we are blessed with lots of wide multi-use pathways that make it very doable and safe in much of the metro area. And that 10 minutes of your heart pumping 4 times a day helps to clear your mind and be able to focus better."
Passion to Proprieter: Broadway Rickshaw
Jeff's love for biking grew beyond a hobby; he started his own business: Broadway Rickshaw. Inspired by a trip to South Carolina, where he saw pedicabs in action, Jeff envisioned bringing this unique form of transportation to downtown Fargo, North Dakota. Broadway Rickshaw was born, offering rides to locals and visitors alike.
In July 2021, Jeff purchased a used two-seater pedicab and began his venture with Broadway Rickshaw. The demand quickly grew, leading him to acquire a six-passenger "limo" pedicab a year later. The arrival of the larger pedicab marked a significant milestone in Jeff's journey as he embarked on new adventures and expanded his business.
The Name Broadway Rickshaw
Jeff chose the name "Broadway Rickshaw" as a tribute to where his adventure began: Broadway Avenue in downtown Fargo. "Rickshaw" adds a touch of uniqueness to his business, as he found it more appealing than traditional names like bike taxi or pedicab. In an unexpected twist of fate, people often assume his name is Rick!
Getting a Ride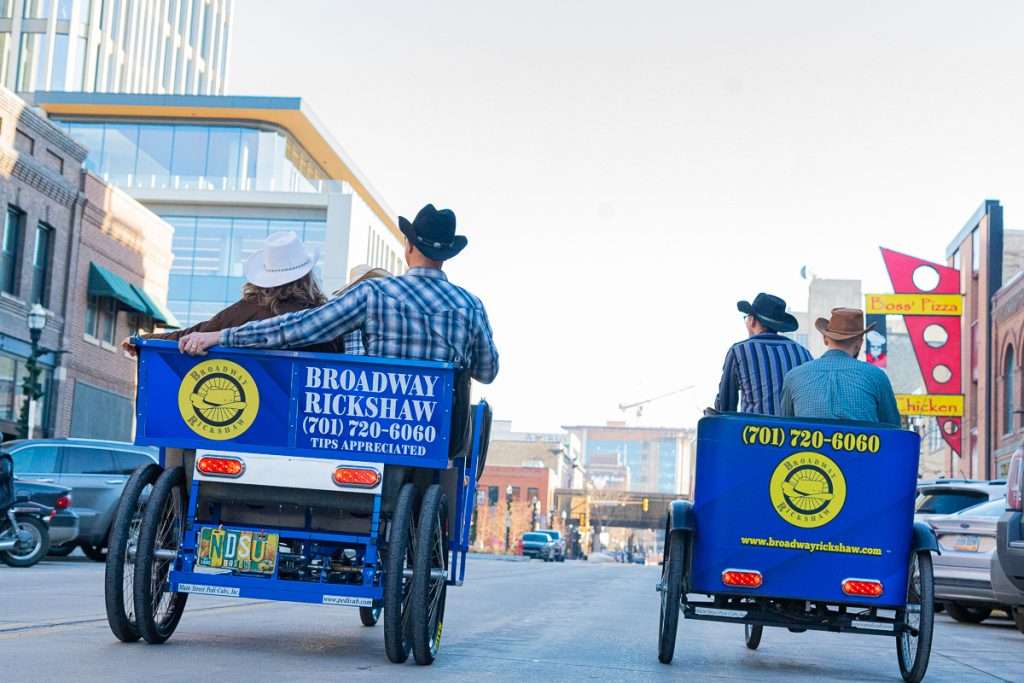 When warm weather finally finds its way to North Dakota, Fargo erupts with events and the night comes to life. On Jeff's website, you'll find the most popular routes served by Broadway Rickshaw. Included is a popular late-night bar crawl called Red River Cruise. Jeff especially enjoys his time riding at Bison football tailgating, and offering his services to fundraisers, as he recently did in Wahpeton.
To learn more about Broadway Rickshaw or book a ride, visit http://www.broadwayrickshaw.com/ or contact Jeff personally via email (broadwayrickshaw@gmail.com) or phone (701-720-6060).