Kurt Lysne & Josh Reiner | Graduate Engineer | Then & Now
We are honored to say that many of our employees have been with us for most of their careers.  This is not something we take lightly, and we are proud to offer a fantastic environment and benefits that allow our employees to discover their passions and grow throughout their careers.  This past month we have enjoyed visiting with many of our long-term employees and seeing where they started and where they are now.  Today we want to introduce you to two amazing employees, Kurt Lysne and Josh Reiner.
Kurt Lysne
Years of Service to Moore: 16 years
Year you started as a Graduate Engineer: 2006
Why did you choose engineering as your career path?
Although I am good at math, I spent the first 3 semesters of college trying to avoid it. I was at a community college jumping between history, accounting, business, and psychology and enjoyed them all. But, when it came down to it, I couldn't see myself turning any of those fields into a career that fit me. I started thinking about what I wanted to do and came up with a few criteria: the potential to spend time outside; a job that needs boots but also has days where you can wear a suit, but still drive a pickup. Civil engineering checked all the boxes, so I transferred to NDSU and took math head-on.
What has changed since you started your career as an engineer?
The biggest change since I started is the flexibility in the way we complete work. When I started, I had a desktop computer with a huge CRT monitor. I could only check email while in the office (which I miss) and pretty much all work had to be done at my desk. I got my first smartphone during the 2009 flood, which brought some increased connectivity, but it was the laptop with a VPN connection that made it possible to work from anywhere. I pop my computer open a lot of nights to get some work done, but I'm able to do it from home after the kids are in bed and don't have to go to the office.
What made you choose Moore Engineering?
I met Jeff Volk at a scholarship luncheon at NDSU and when he asked me if I had a summer job, I said no. He told me to go visit with the survey manager at Moore and I later found out that meant I had a job for the summer. I spent that summer (2004) interning on a survey crew and interned again the next summer inspecting the 13th Avenue reconstruction in West Fargo. I had two great summers interning and loved the company and the culture. When it came time to get a full-time job, Jeff offered me a job in the water resources department. Now, I grew up on a North Dakota farm, but we quit farming when I was in high school. The water resources department at Moore gets to work with many of the County Water Resource Districts that construct and maintain the dams and drainage systems that make the region the most productive farmland in the world. Working at Moore was the perfect fit to use my engineering degree while getting to work directly with agriculture.
What makes you stay with Moore Engineering?
Great clients, interesting projects, and my co-workers. In addition to dams and agricultural drains, I've had the opportunity to work on large-scale flood control projects, urban stormwater systems, and major transportation corridors. At Moore, I've been able to help certify flood control levee systems that protect billions of dollars in infrastructure and relieve thousands of homes from having to pay costly flood insurance premiums. As the company has grown, I've had opportunities to grow and advance with it, and love trying to provide opportunities to more and more people as we grow. I've grown up in the company and care deeply about the people we have in it. We have wonderful people and I consider them friends, which makes every day coming to work a good day. This photo has Lyndon Pease, Jerod Klabunde, and myself from a 2008 road trip we took to Wyoming to watch NDSU play. I have many more photos like this of having great times and making memories.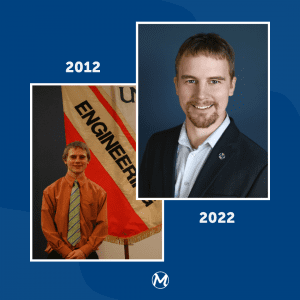 Josh Reiner
Years of Service to Moore: 10 years
Year you started as a Graduate Engineer: 2012
Why did you choose engineering as your career path?
I chose engineering as my career path from several factors. I excelled in math classes throughout high school and my uncle who has since retired from the electrical engineering field influenced me to look at engineering. Also, while growing up, I was constantly trying to figure out how things work and how to make things better.
What has changed since you started your career as an engineer?
When I began my career as an engineer, as with many entry-level engineers, I didn't know exactly what types of projects I wanted to be involved in. As I got into my career and was exposed to different types of projects, I became focused on Municipal Engineering projects working for communities with many different needs. As I progressed through my career from an entry-level engineer to leading the design of projects, I began to notice that I had a strong desire to work more directly with our clients to determine what their needs and goals are. Today my role as a project manager allows me to build relationships with our current and new clients as well as help them determine their goals and lead our design teams to make sure that our clients' needs are met.
What made you choose Moore Engineering?
At the time I was beginning my career there were a lot of opportunities for engineers as there are today. When I interviewed with Moore Engineering it was very apparent that the company was well managed, employees were happy and that opportunity for career growth was there.
What makes you stay with Moore Engineering?
I am coming up on my 10th Anniversary with Moore Engineering in a few months and throughout this time many things have changed throughout the world, locally, Moore Engineering, and in my personal life.  Throughout this time the reasons I chose to start my career at Moore Engineering have constantly been reinforced. I have been provided great opportunities for career advancement and the teams I get to work with on a daily basis are always dedicated to making sure that we have a successful outcome for our projects. I truly believe that the dedication of our employees to ensuring successful projects while ensuring that our employees are taken care of when life throws something at us is driven by being an ESOP and the culture of the company.
Are you ready to be Moore? Apply online today and get started on your career!