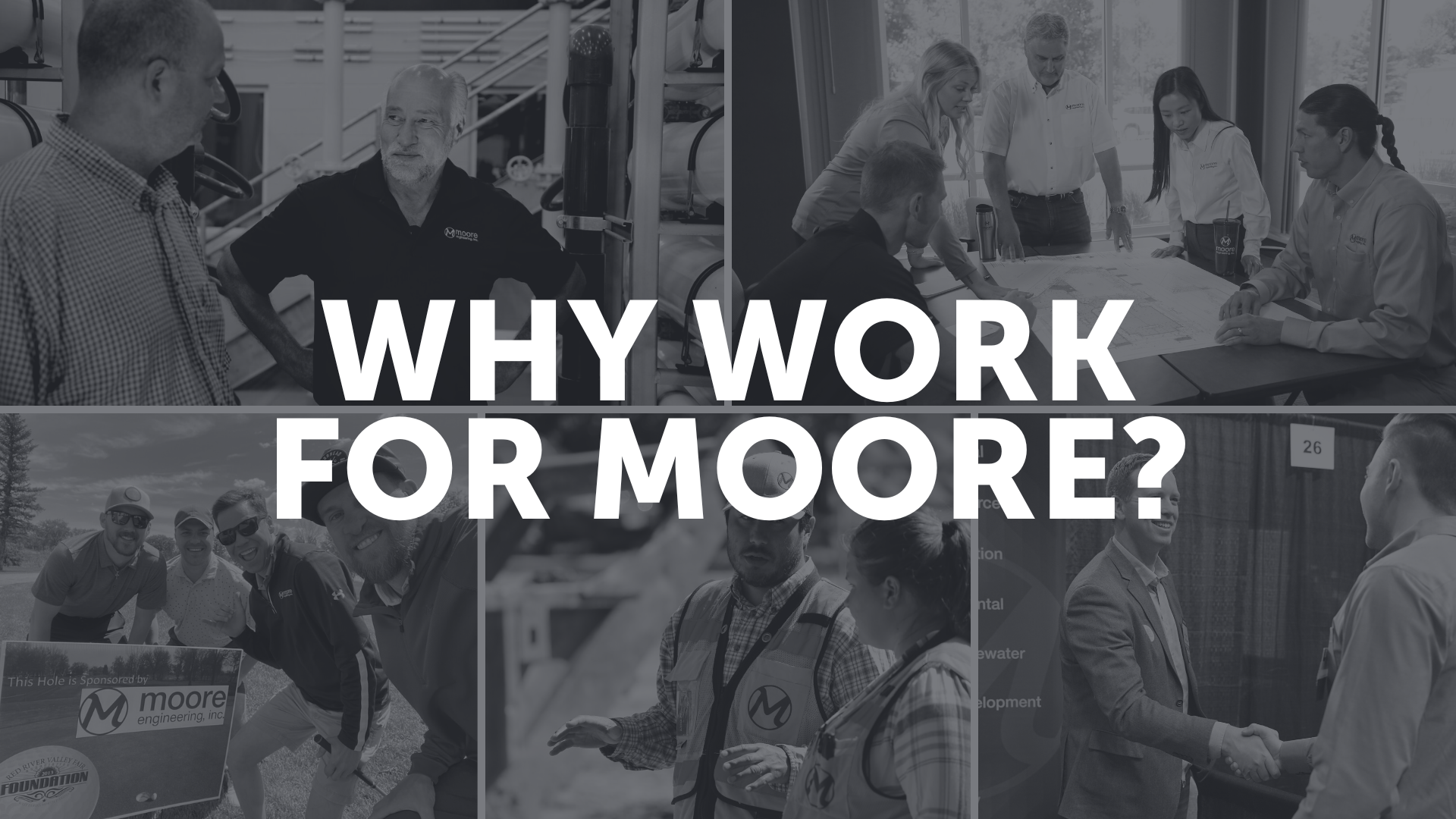 Join Us | Why We Love Working at Moore Engineering
At Moore Engineering, we believe that happy and fulfilled employees are the foundation of our success. We're proud of our high employee retention and that our employees frequently refer their friends to join our team. Our focus on providing a supportive and inclusive work environment, meaningful work, and a commitment to our employee's growth and development is what has driven our 60+ years of sustained growth.
We understand that our employees are our most valuable asset. That's why we strive to create a workplace culture that fosters a sense of ownership and community.
But don't just take it from me! We've asked some of our team members to share their favorite things about working at Moore Engineering. We've captured their responses in a video that you have to see. Our employees will tell you first that Moore Engineering is a cut above the rest.
Through our conversations, we noticed that three primary benefits stood out as most impactful. We'll share the immense impact those benefits have on our employees' fulfillment.
Watch the video below and keep reading to see why Moore Engineering was named a top place to work in the FMWF area.
Culture of Values
At Moore, our values of respect, integrity, accountability, loyalty, and kindness guide us as we pursue our mission of "improving lives by building strong communities."
Our values influence everything we do. In client meetings, candidate interviews, and volunteer campaigns, our values are always top of mind for our leadership and team members.
Our mission statement extends beyond our offices or the communities where we work. It speaks to our shared sense of ownership and the intrinsic benefit our impact has on our bottom line and future growth as an ESOP.
ESOP (Employee Stock Ownership Plan)
As a 100% employee-owned ESOP company, we each contribute to Moore's growth and individually benefit from the firm's collective success.
Every employee-owner is uniquely invested in the work we do. No one at Moore cuts corners because we're in this together. Everyone directly impacts our ability to deliver positive results for our clients. As a result, many of our clients have stayed with Moore for decades.
That mindset of collective ownership has done wonders for employee retention at Moore Engineering. Over time, employees reap the financial benefit of sustained, compounding growth. Moore Engineering isn't owned by some faceless multi-national company. It's owned by us – the employee-owners.
Is your company an ESOP?
Flexibility through remote work options
At Moore Engineering, we know that a healthy work-life balance is crucial to our employees' well-being. That's why we offer remote work options to all our team members. Whether it's to care for a sick child or avoid a long commute, our employees can work from wherever they're most comfortable and productive.
But it's not just about convenience. Our remote work options help us attract and retain top talent from all over the region. We understand that talent can come from anywhere, and we want to ensure that our employees have the flexibility they need to thrive in their personal and professional lives.
Join Moore
We're proud to provide our team members with a supportive and inclusive work environment, meaningful work, and a commitment to their growth and development. If you're interested in joining our team, check out our open positions and submit your application today!