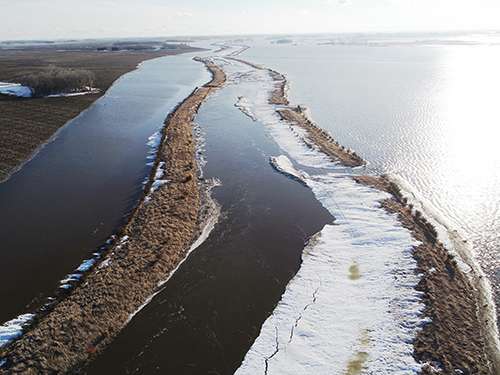 Inside the Flood Fight, Part 1: Preparations Begin Well in Advance
Spring waters are receding in the Red River Valley after reminding us all of the potential for catastrophic flooding. Some areas were impacted more than others, but for the most part, the preparations made since the last event several years ago seem to have been a big improvement in averting risk.
This blog is the first in a series that takes readers inside the flood fight, from a water resources engineer's perspective. Part one covers preparations made long before an event is imminent.
Monitoring Begins in the Fall
During the fall, Moore Engineering's water resources engineers and other experts across many organizations begin collaborating to monitor conditions that will tell them whether a flood event is likely in the spring. The number of variables is mind-blowing because there are so many combinations of weather conditions and ground conditions.
The impact of fall precipitation on spring flooding is often dependent on things like soil saturation, the date the ground freezes, the moisture content of precipitation and others. For example, if the ground is saturated in the fall when it freezes there is less capacity for the soil to absorb moisture it receives in the spring – melted snow or rain – and a larger portion runs off instead of soaking into the ground.
The National Weather Service documents snowpack, soil moisture content, temperatures and more to give the region an idea how much water is accumulating over the winter.
Mike Opat, Moore water resources project manager, says it is an art and a science to determine what impact winter conditions will have on spring flooding. Experience, combined with technical measurements, creates a decent profile of whether there is reason for concern.
"There are lots of people and organizations watching the precipitation situation throughout the winter," Opat says. "How much snow is falling and where? Was the ground saturated when it froze up in the fall? How deep did the ground freeze over the winter? We appreciate the data that government agencies collect and the models they produce from it. They really help give us some context about what we are seeing on the ground or from the air."
Our engineers spend hundreds of hours driving the countryside, flying in planes and reviewing drone footage to assess the impact of melting snow and any spring moisture. Combined with models produced by the National Weather Service, the engineers are able to provide guidance to our clients and others potentially impacted.
"Our cumulative experience is probably our most valuable asset," says Opat. "We've been monitoring floods in eastern North Dakota for decades, so we know what to look for."
Opat says Moore gets calls from people during flood events that we don't normally hear from. "We get calls from cities, landowners, airport administrators and others – people who aren't our clients, but they know we've collectively seen as much as anyone in the region. We're happy to help whoever needs it to help avoid a catastrophe."
The one thing they can't control, he says, is the weather. "Obviously, It would be helpful to know exactly how warm it was going to get and how much precipitation will fall weeks ahead of time. That would make our jobs a lot easier," he says with a chuckle. "As it is, we try to understand the various possibilities as much as we can with imperfect data."
Emergency Plans Lay Out Scenarios for Dams
Moore's water resources engineers also partner with water resource districts to develop emergency plans for the various dams the districts own and manage. The plans cover an escalating series of scenarios to best prepare everyone in the event a dam's capacity is exceeded or water breaks out unexpectedly.
Engineers work directly with water district board members and landowners to understand risks, and develop both mitigation options and emergency plans to deal with each stage of a flood event.
"We communicate with our water resource district and municipal clients year-round to ensure we understand how a flood event would affect land below dams that we help maintain and operate," says Opat. "We run through scenarios with them, review potential impacted areas in their jurisdictions and talk directly with landowners to understand what might happen on each property."
Moore employees continuously monitor dams from the air, by land and through gauge readings during a flood event and report back to the water resource district and other local and state officials. Stay tuned for more on that coming up in Part 2 of our Inside the Flood Fight series: Spring Conditions Prompt Action.