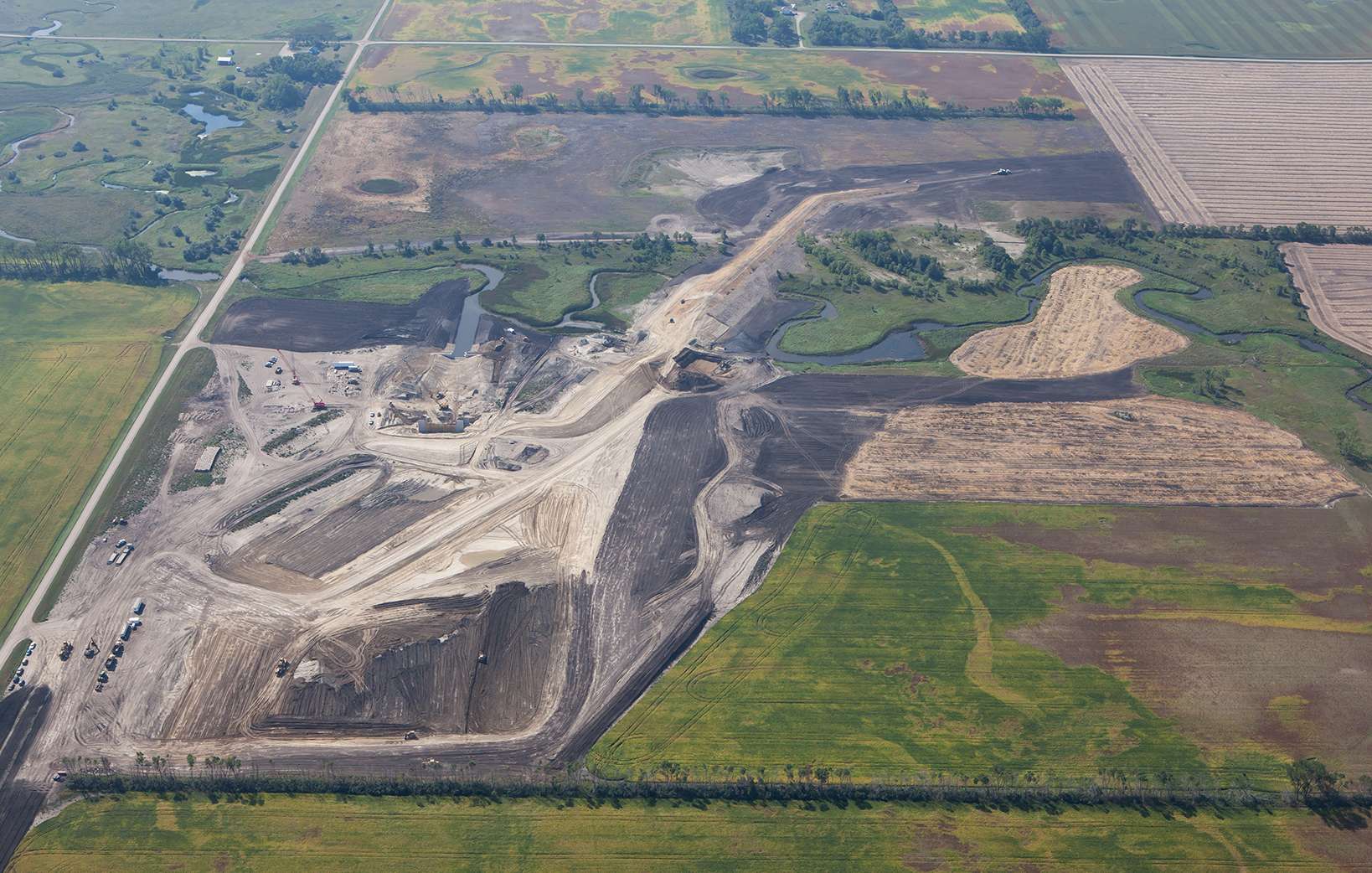 Cooperation key to building Upper Maple River Dam
WEST FARGO, N.D. – As eastern North Dakota continues to work on limiting the impact of a major Red River flood, residents along the upper Maple River watershed are anticipating the benefits of a $9 million project that will dramatically reduce their flood risk.
The heart of the project is a dam and concrete spillway about six miles south of Hope, N.D., which will reduce the flood risk for roadways and cropland in the area. By managing the release of water after a heavy rain event or snowmelt, the Upper Maple River Dam will reduce river peaks by as much as 92 percent along some corridors of the river when it becomes operational in the spring of 2016.
Jurgen Suhr, chairman of the Maple River-Steele County Joint Water Resource District, believes the project sets up the region for success and growth for decades. "This is a visionary project that reduces the risk that landowners face," he said. "Agriculture is still the number one industry in this state, and if we want it to perform at its full potential, we need to get a handle on water issues. This dam is an important piece of that effort."
The Upper Maple River Dam is a dry dam, meaning it will only hold water during flood events, and area farmers will continue to use the area behind the dam for growing crops and grazing animals. The 925-acre water retention area will reduce the flood risk to over 22,000 acres of cropland and roadways.
The protection is made possible through interwoven funding partnerships. Of the dam's $9 million total price tag, the North Dakota State Water Commission is covering $4.7 million, the Red River Joint Water Resource District is contributing $2.7 million and Cass County is contributing around $725,000 through the county's sales tax for flood risk reduction projects. The remaining $875,000 will be covered through assessments paid by downstream property owners benefitting from the dam.
The project is also possible because of the unique cross-jurisdictional cooperation between governing bodies. The Maple River-Steele County Joint Water Resource District is comprised of water managers from Cass and Steele counties who worked together to provide much needed assistance for flooding in the watershed.
Suhr said with so many entities and interests represented, education and compromise were key. "This project dates back to 1996, when serious interest first arose for retaining Maple River water in this area," he said. "When this dam becomes operational in the spring, it will be the result of many people working together to build something for the common good."
Between 2002 and 2008, planners conducted several major studies to understand the watershed and the impact of various plans. They chose the current site and completed the design report in 2010, after identifying and analyzing potential sites. Land owners provided their feedback and input through public meetings held over several years.
"There are always intersecting interests with a project this big," said Suhr. "Politics and engineering recommendations don't always align. And then, of course, there's funding. That's why these things take so long to develop. But, in the end, when we have a heavy snowmelt or a massive downpour, and that dam is holding water and keeping it where it should be, it will all be worth it."
The Maple River and its contributing watersheds already play a significant role in reducing the region's flood risk, with several dams already impounding the water that reaches them. That includes the existing Maple River Dam near Enderlin, N.D., which has been protecting people and property in that watershed and downstream since 2006. At $29.5 million, that dam is the largest in that watershed designed by a private firm, West Fargo-based Moore Engineering, Inc., which is also the engineer for the Upper Maple River Dam.
By the numbers… 
 
Total cost 
$9 million
Size of the dam's embankment

35 feet tall

20 feet wide

5,000 feet long 

Water storage capacity 
9,950 acre-feet 
Size of pool 
925 acres 
Peak flood risk reduction (avg.) 

86% in a 100-year, 24-hour rainfall

58% in a 100-year snowmelt 

 Protected floodplain area
22,365 acres