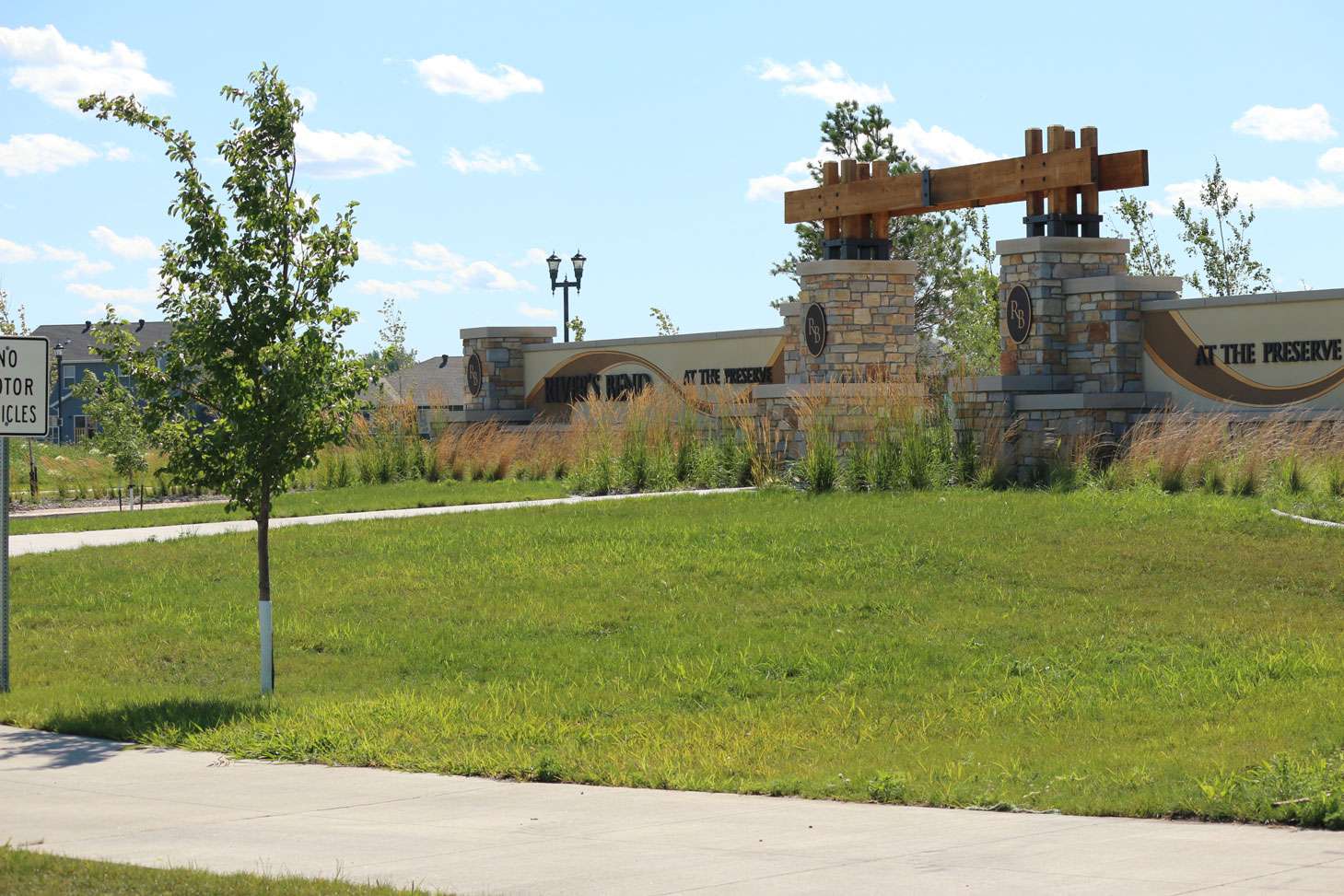 West Fargo, ND – River's Bend at the Preserve
Challenge
The goal was to best accommodate the 105 acres of land to meet the needs of the client, the home owners association (HOA) and the City of West Fargo. The plan was to provide an aesthetic, safe and walkable community in this growing area to meet the demands of the market for an exclusive family neighborhood. The idea was to share the amenities of the entire development with all of its residents while providing individual space as well. The shared amenities include over 10 acres of park land, random lots for landscaping purposes, two retention ponds, the Sheyenne River and park property along it, and the extensive paved paths to connect all of it and link it into the city's overall network. The planning also needed to best accommodate serving this new area with utilities and city infrastructure in a cost effective manner while planning for future development on the remaining 46 acres.
Solution and Services
The property is located in the heart of the thriving area just off of Interstate 94 and Veterans Boulevard. With this area conveniently located, the meandering curved roads of the development allowed traffic speeds and volumes to be controlled along with an aesthetic streetscape. Additionally, there were no through streets in the development which encouraged only local traffic providing a safer environment for residents and pedestrians. Cul-de-sacs were not used due for cost effective purposes as well as to appease the city's service and maintenance departments Occasional right-of-way width changes allowed for frontage roads in certain areas to create unique lots and also provide additional aesthetic landscaping areas for the HOA. Adding to the beautification and exclusivity of the subdivision, additional right-of-way was deeded to the city to allow for berming and a decorative fence to surround the neighborhood. While benefiting the developer and neighborhood, this provided the city with some additional space to add landscaping along the multi-use path adjacent to a collector street.
Outcome
The results of the plats provided the developer with a great supply of large lots in a new and unique development to meet the demand of the market. The efficiency of the plat, along with benefiting the developer, provided economic benefits for maintenance crews and the city as a whole. This development has set a new standard in West Fargo that will standard the test of time.