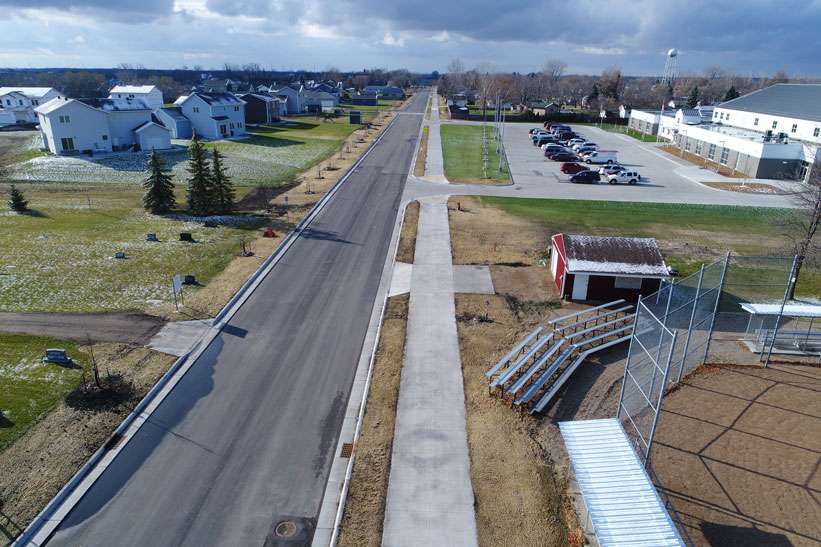 Mapleton, ND – School Zone Improvements
Challenge
Mapleton's existing elementary school, 506 1st Street, is 92 years old, and the city recently voted to pass a bond referendum to pay for a new elementary school. At the time, a new school was under construction east of the existing school, on the north side of 1st Street. The street in front of the former and new school was not  in proper condition for use as a thoroughfare for students walking to school or for vehicle traffic. The rural asphalt street section had ditches that didn't drain properly and a small amount of sidewalks. The area in front of the new school is a gravel street section with poor ditching and no sidewalks.
Solution
The City worked with Moore Engineering to devise a reconstruction plan for the street and aged utilities. The sanitary sewer and water main needed replacement, as well as the existing sanitary sewer lift station. To install a proper street section, the city installed an urban street section with curb and gutter and new storm sewer. This street was installed from the intersection of 1st Street with Cass County Highway 11, all the way to the east end of the City's cemetery. From that point, a crushed concrete street section with ditching was installed to the east out to 164th Ave SE.
Above replacing the water main and sewer main, along with installing the storm sewer and a new street section, the city installed a 10-foot multi-use path on the north side of 1st Street to connect other multi-use paths throughout the city and to accommodate foot traffic to the new school. The city also installed a raised crosswalk southwest of the new school to help improve safety. The new street does not allow on-street parking: the new school has off-street parking for visitors. New signage was installed along the street along with a radar speed sign to help keep speeds down on the road.
The project also included replacement of the aging lift station with a new lift station on the city's property across from the existing school.
Outcome
The project improved safety for pedestrians along the corridor, improved the flow of traffic to the new school, corrected drainage along the corridor and replaced aged utilities under the street. The city secured a low interest loan from the Bank of North Dakota to help finance the project, and will use a special assessment process to pay for the project.