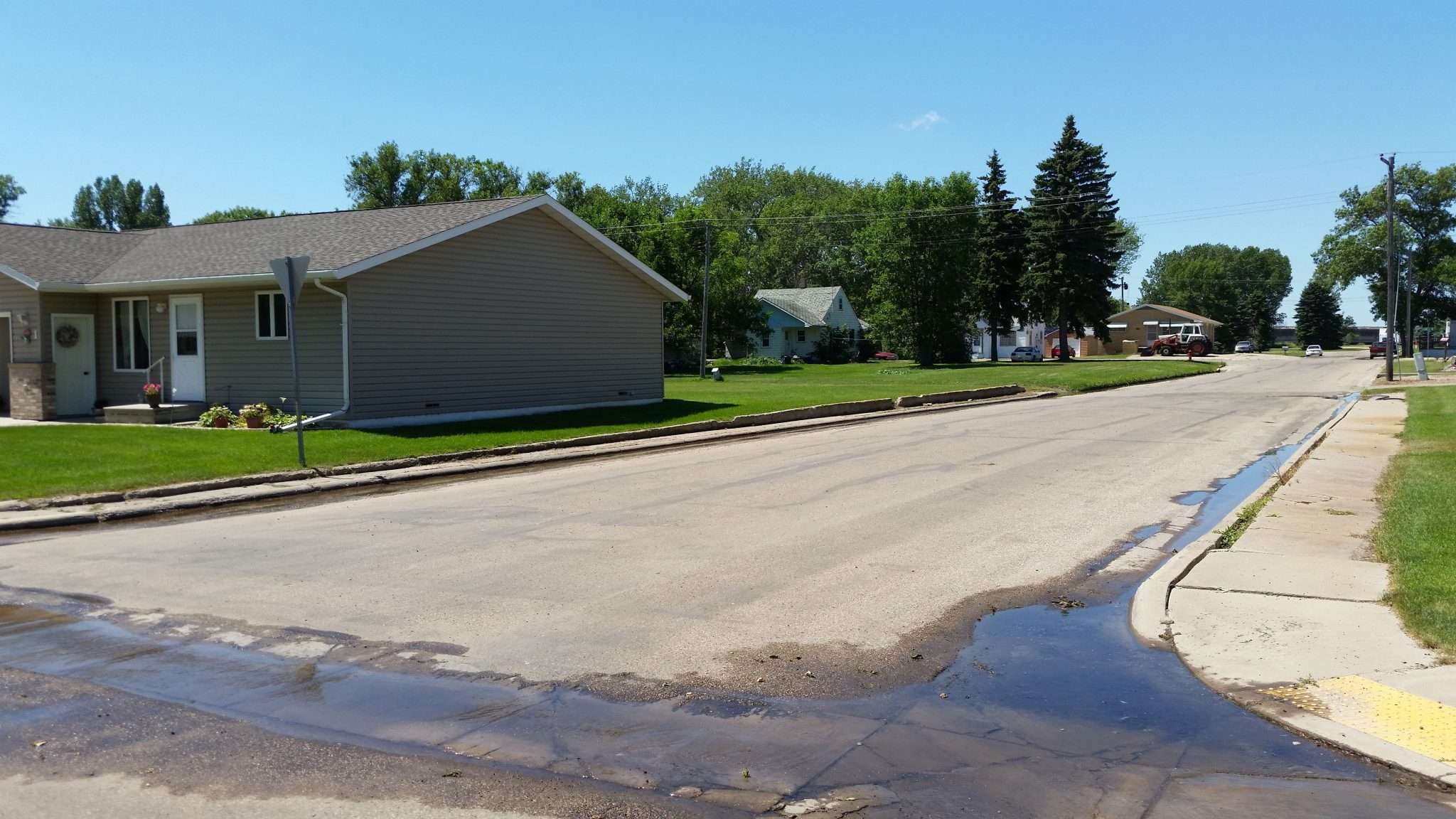 Napoleon, ND – Storm sewer, sanitary sewer & water main replacement
Challenge
The City of Napoleon had an aged sanitary sewer system. The vitrified clay pipe system was installed from 1949 to 1973. The system was leaking and there were infiltration and inflow issues. As a result, the sanitary lift station was running both pumps around the clock.
The cast iron water main had been installed in 1949 and was due for replacement. There were also major issues with the storm sewer.  The aging infrastructure and too few inlets, and the ones they did have were in poor condition, causing flooding issues during heavy rains. In addition, high groundwater caused residents to keep up to six sump pumps running continuously. This discharge would end up on the city curbs which continually held water. This saturated the curb and gutter and sank to the subgrade of the streets. Because of the constant saturation, mud boils formed on the city streets.
Ultimately, over a span of seven blocks (2,800 feet), the City of Napoleon needed a replacement of the cast iron water main, replacement and relining of the sanitary sewer and full replacement of the storm sewer system and roadways.
Solution:
Moore Engineering replaced portions of the sanitary sewer, amounting to 2,300 feet, in areas with failed pavements. The remaining portions, amounting to 4,200 feet, were relined in order to preserve streets that were in good condition.
The project replaced 800 feet (2 blocks) of cast iron water main with new PVC pipe.
Storm sewer pipes were replaced and Moore increased the inlet count from 13 to 52 inlets to make it more efficient.  The company chose perforated pipe installed 3 ½ feet deeper than the original pipe to allow ground water to drain into it and to keep pavement subgrades dry. Finally, they installed storm sewer laterals for the homes. These allowed each homeowner to connect their sump pump discharges directly into the storm sewer to avoid the curb, gutter and street saturation issue.
Finally, the streets were replaced and the company installed Geogrid beneath the gravel road base. This new method of structural reinforcement replaces several inches of gravel and increases longevity.
Outcome:
The required dewatering process during construction does not give an accurate representation of how water will flow once the project is completed. However, when the construction crew's dewatering system is not operating, the sumps haven't come back on much, which is a promising indication of a likely successful outcome.
Moore engineering was able to secure a Rural Development grant to pay for 45 percent of the City of Napoleon's project.